The Global Science Graduate Course (GSGC)
Admission 2021/11/09
Instructions for students applying for the Global Science Graduate Course (GSGC) of the Graduate School of Science
GSGC is an international graduate program in the Graduate School of Science, the University of Tokyo. All graduate courses of the Dept. of Physics are conducted in English. Please visit the websites of GSGC(General) and GSGC(FoPM) for the latest application guidelines.
Application Period: December 1, 2021 ~ January 11, 2022
GSGC(General)
GSGC(FoPM)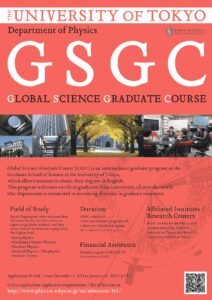 » The application requirements
» Online application
» GSGC Q&A

*For those who cannot submit their GRE/TOEFL score due to the cancellation of the exams by COVID-19, an alternative measure may be taken. Please refer to the Guidelines of the "Application Guidelines" for more detail.
List of GSGC faculties (For 2022.10 enrollment)
〇GSGC(General)
by Bureau
by Subcourse
〇GSGC(FoPM)
Faculty list
Some of the listed staffs cannot take students throughout the course (five years for the Master's and Doctoral programs). Please contact the staff directly and check if he/she can accept you in advance.
Contact us
admission-gc [AT] phys.s.u-tokyo.ac.jp
*Please delete the " [AT] " when you send an email.